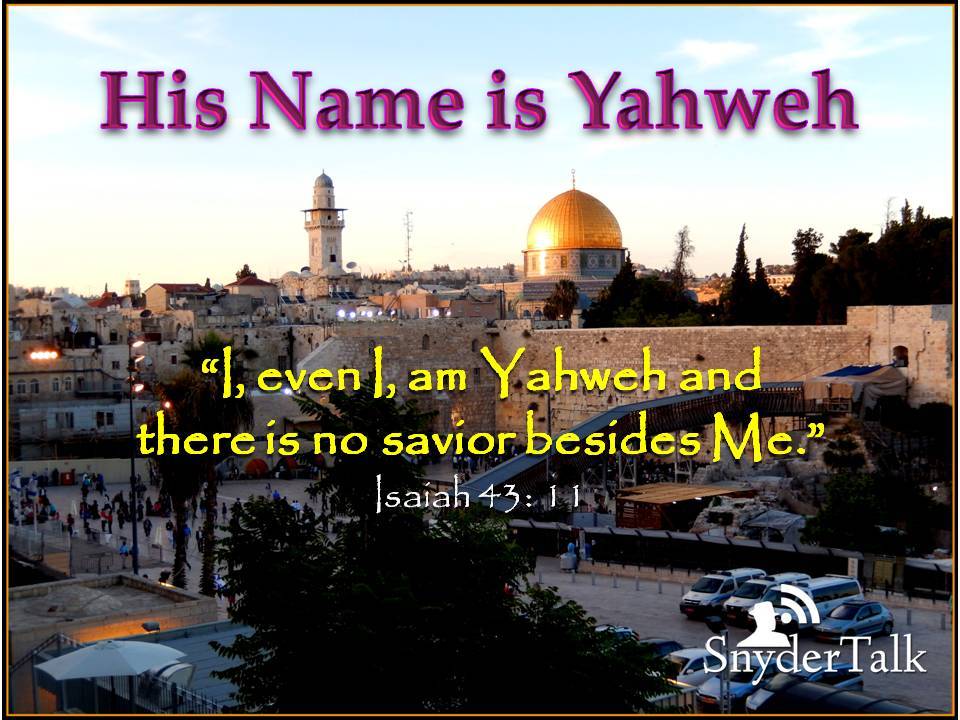 "I am Yahweh; that is My Name!  I will not give My glory to anyone else, nor share My praise with carved idols." (Isaiah 42: 8)
Thank you for visiting His Name is Yahweh.  Go to the "Downloads" page in the horizontal menu bar above to download a free copy of His Name is Yahweh: Revised Edition in PDF format.
If You Know His Name, Declare It
The Purpose of this Website:
The purpose of this website is to equip Yahweh's people with Biblically accurate information about the importance of His Name.
It addresses six fundamental facts about Yahweh's Name that are not well understood by most Christians—even Christians who attend church and read their Bibles regularly.
It includes a downloadable book manuscript in PDF format and YouTube videos that present the basic message in the manuscript.
It also contains YouTube videos that answer frequently asked questions and a PowerPoint file for making formal presentations.
Every resource provided in this website is free. Use it and share it. Working together, we can reach the world with this message.
The Messiah is Yahweh
There is a great deal of confusion about who the Messiah is.  For a complete explanation, you need to read the book His Name is Yahweh: Revised Edition, but these two verses provide the answer in a nutshell:
"I, even I, am Yahweh and there is no savior besides Me!" (Isaiah 43: 11)
"Before Abraham existed, I am." (John 8: 58)
The Messiah is the physical manifestation of Yahweh.  He has appeared many times in Person to accomplish His will.
The book His Name is Yahweh: Revised Edition includes a chapter titled "Yahweh Has a Human Form".  You will find it very helpful if you  have any doubts about who the Messiah is.  Of course, you should read the rest of the book, as well.
Free Downloads
This website is loaded with material that is designed to enlighten and educate people about the importance of the Name "Yahweh". Please review and share the material with your friends and associates.
By sharing this information, you will be participating in the development of a geometric progression that will eventually inform most of the people in the world about the importance of Yahweh's Name. Participating in this endeavor is easy, and it has the potential to change the world for the better as more people are brought to faith in Yahweh.
His Name is Yahweh: Revised Edition can be downloaded for free in PDF format. It presents proof that the Messiah discussed in the Old Testament is Yahweh, that the Person most Christians call Jesus is Yahweh, that Yahweh is the Name in which we have salvation, and that Yahweh is the only Name we were told to declare to the world.
If any of this information is new to you, then you need to read His Name is Yahweh: Revised Edition because it is not new information. In fact, it is older than the Bible itself.
After you read the manuscript, please share it with others. Feel free to print it as often as you want. To download the PDF file, go to the "Downloads" page and click on "His Name is Yahweh: Revised Edition in PDF format".
You can download a PowerPoint presentation on His Name is Yahweh: Revised Edition for free by going to the "Downloads" page and clicking on "His Name is Yahweh PowerPoint file". You should study the manuscript before making presentations. It should answer every question you will encounter. If it doesn't, please let me know.
Several YouTube videos are included on the "Downloads" page.  They present the basic message in the book and answers to frequently asked questions.  Take the time to explore them and share them with your friends and family.
Spread the Word
After you've examined this website thoroughly and studied the material, please join us in spreading the Word. Everyone needs to know that there is only One true Elohim—Yahweh—and that the Person most people call Jesus is Yahweh. Share this website with your family, friends, and associates, and ask them to join us as well.
Useful Tools for Believers
I created a blog for you called SnyderTalk. To visit SnyderTalk, click here.
In SnyderTalk, I post articles about current events, especially about current events in Israel. You need to keep yourself informed about happenings in this critically important region of the world, and SnyderTalk is the way to do it. The titles for news articles with embedded hyperlinks appear in the blog. With the click of your mouse, you're on your way.
You can add your name to an email distribution list and have SnyderTalk delivered to your inbox by clicking "Subscribe to SnyderTalk by Email".
I created a Facebook group for believers called His Name is Yahweh. Facebook is an important tool that we can use to communicate with each other and with people Yahweh is leading to an understanding about the importance of His Name. You can join the group by clicking here and signing up. If you do not already have a Facebook account, you should open one. It's free.
I highly recommend becoming a fan of the His Name is Yahweh Facebook group.
The pages in His Name is Yahweh are listed below the YouTube video.  Click on them and and explore.